Storage and on-demand water heaters.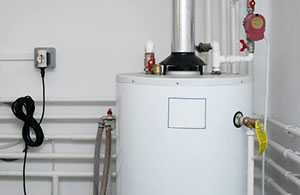 Trust Region Energy for sales, expert installation and service of the latest, energy-efficient electric, natural gas and propane storage and tankless water heaters. With equipment from major brands like A.O. Smith, Bradford White and Bosch, Region Energy will guide you through the process of making the best decision for the equipment that's right for you and your home.
Learn what system is best for you and your home by calling 877.359.2151 today!
One of our hot water heating equipment experts will come to visit you to provide a no obligation assessment and discuss the best size and type of energy-efficient water heater required to best fit your home and budget. The Region Energy team is also here for you 24/7 to take care of any of your hot water system installation and repair needs – in any weather!
Water heaters and energy efficiency.
Did you know…
Heating your home's hot water can add up to nearly 20% of your annual energy costs.
Energy efficiency standards note that water heaters under 55 gallons will see about a 4% boost in efficiency.
Water heaters with a capacity of 55 gallons or more may reduce your utility bills by 25%-50%.1
Water heater installation and repair.
If you're considering the installation of a new hot water heating system, you can rely on our team to guide you through the process and help make the best decision. We will visit your home to provide a no obligation assessment, discuss the best size and type of energy-efficient water heater that works best for you.
Is it time to repair or replace your water heater?
Tankless vs storage water heaters.
Learn more about the hot water systems that you can choose for your home:
Tankless water heaters
Heat water directly with no storage tank.
Turning on the hot water faucet or tap sends cold water through a pipe into the unit.
That water is heated by a natural gas burner, propane burner or an electric element, providing a constant supply of hot water on-demand.
Storage water heaters
Water is heated in a similar way to tankless heaters but use energy (natural gas, propane or electricity) at a slower rate, storing heated water for later use.
1. Source: http://www.consumerreports.org/cro/water-heaters/buying-guide.htm March 2016