Comparing heating oil companies? You don't have to any more. Choose Region Energy!
At Region Energy, heating oil is our business. With years of experience as a full service heating oil company, and a fleet of delivery trucks that operates 24/7, we can provide all of your heating oil needs. Throughout 60 years of business, we have never run out of heating oil for our customers! You can count on Region Energy at any time, in any weather.
We're the local heating oil company that your New Jersey neighbors trust!
The customer service team, drivers, technicians, and entire staff at Region Energy Energy lives in the same neighborhoods and communities as you do. They truly understand your heating oil needs, and provide the services you want, from a company you can trust.
New Jersey heating oil delivery services.
With depots in Dover, Franklin and Hackettstown, we can serve and cover the heating oil needs of any of our Morris, Sussex, Warren and Hunterdon county neighbors.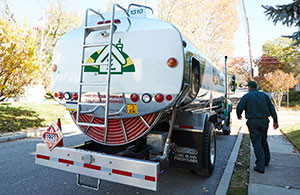 Competitive home heating oil price and payment plans.
We have three pricing plans for heating oil that you can choose from:
Variable Plan
Ceiling Plan
There are no sign-up fees, so it's easy to choose the plan that fits your family's heating oil budget!
Manage your heating costs with our heating oil pricing plans
The SmartPay budget plan will help manage your heating oil costs.
Our SmartPay budget plan allows you to spread out your heating oil (and any service plan) charges over the entire year, simply by paying equal installments every month. That way you avoid higher heating bills in the cold, winter months! Monthly payments are calculated based on a quick assessment of your annual heating oil usage, and there are no enrollment fees!
Spread out your heating oil payments with our SmartPay plan
We'll help you save on energy costs with energy-efficient boilers and furnaces!
A new, energy-efficient home heating system is one of the smartest investments you can make to improve the value of your home and save on annual energy costs. You can rely on us for professional sales, service and installation of heating systems from all leading boiler and furnace manufacturers, including Burnham, Energy Kinetics, Thermo Pride, and Trane with special offers and great financing options for qualified customers.
Start saving today by installing a new home heating system
Take advantage of special offers on heating systems
"I am writing to express my pleasure with the job the crew did this past Tuesday in installing the new boiler at the house we live in. The people arrived when promised, completed the installation in the one day promised, and left our boiler room cleaner than it was when they arrived. In all, totally professional job. Please convey my thanks to the people who installed our boiler and to your colleagues."
- S. Brown
Region Energy offers all of the following…
Automatic heating oil delivery services
Multiple pricing plans to choose from
SmartPay budget payment plan
24 hour emergency service in any weather, all year long
More technicians on staff to provide quality service all the time
Guaranteed oil delivery (we have never run out!)
Easy to schedule tune-ups
Join the Region Energy family today!