Don't let your power go out!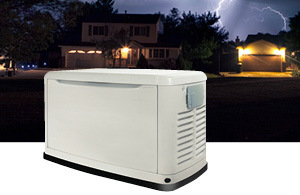 When a storm knocks out your power, it's too late to start thinking about a backup generator. Prepare your family for any storm or power outage now.
Having power is vital to provide home comfort essentials like heating, lighting, cooking and more. In recent years, power outages caused by extreme cold weather, winter storms, major hurricanes, superstorms, and Nor'Easters have proven that every home should have a generator to ensure that you're not left powerless for days, or weeks, in extreme weather!
Make sure you and your family are safe and prepared when the next storm or power outage hits with a backup power generator!
A standby generator will help ensure that you don't become one of these statistics during the next storm or power outage:
3.5 million people experience a power outage each week.
You can lose over $200 in food due to spoilage from powerless freezers and refrigerators.
Basement flooding due to unpowered sump pumps can cost over $20,000 in repair and replacements costs.
It can cost over $150 a night to stay at a hotel for you and your family.