Natural gas service plans.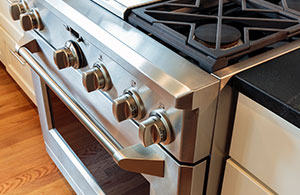 We have two natural gas service plan options that are both designed to keep your system running smoothly all year round and ensure that you don't have to deal with any unexpected costly expenses.
Download our natural gas service plan brochure
Choose which service plan is right for you and your home.
Natural gas basic protection plan.
This plan includes:
On-call access to service — 24/7.
Whenever you need us, we're there for you, from the depths of winter to the height of summer — every day, all year! This means you can get repairs done quickly, before they become bigger problems. There are no charges for services covered by this agreement when performed between 8:00am and 5:00pm. If you request service for arrival prior to 8:00am or after 5:00pm, on a federal holiday (day when the post office is closed) or weekend, there will be a diagnostic fee.
Tune-up.
To help keep your energy bills low, it is recommended that you have your heating system tuned-up once a year by a professional technician. This service is available at no additional cost.
Enjoy a 15% discount.
To help you save even more, this plan gives you a 15% discount on our regular rates for any repair work not covered by your plan.
Natural gas elite protection plan.
This plan includes everything featured in the Basic Protection Plan plus:
Free service visits on covered repairs.
To help you keep your system running at peak efficiency, the Elite plan covers service visits for covered repairs. (listed below)
Selected combustion components and heating system parts are covered, including:
Air eliminator #67
Aquastat
Aquastat well
A and B valves
Belts
Blower motor (up to 1/3 HP)
Burner squirrel cage (no bearings)
Capacitors
Circulator motor (up to 1/12 HP)
Circulator pump(s) and clutch coupling (up to 1/12HP)
Direct drive blower wheel
Draft hood
Drainoff valve
Drain valve on LWCO
Electrical switches (house heater only)
Electrodes
Electronic spark pack
Extrol tank
Fan and limit control
Filtrol tank
Flame roll-out switches
Flame sensors
Flame spreaders
Flue pipe sleeves (galvanized only, up to 9" diam.)
Flue piping (galvanized only, up to 9" dia., additional charge for "B" type vent pipe or stainless steel)
Gas control(s)
Gas valve(s)
Gauge glass and washers
Generator lead
Horizontal diverters
Ignition controls (universal type only)
Limit control(s)
Motorized flue damper (universal type only)
Pigtail
Pilot burner
Pilot orifice
Pilot safeties
Pilot tubing
Pressure gauge
Pressure relief valve
Relays
Spark rods
Spark wire
Spill switch
Steam pop safety valves
Steam pressure control
T and P relief valve
Thermocouple
Thermostat (standard type)
Transformer
Unitrol (water heaters)
Zone valve heads (up to 1" diameter)
The following general exclusions apply for both plans:
Services to identify or remedy gas leaks
Coverage can be revoked if customer fails to pay for service within terms
Coverage can be revoked if customer fails to remedy conditions identified as hazardous
Coverage can be revoked if customer permits anyone other than us to service equipment
Providing adequate ventilation for combustion
Removal of materials containing asbestos
Monitoring vacant or unattended premises
Maintaining clean air filters (draining the expansion tank)
Replacing fuses
Resetting circuit breakers
Turning on the emergency switch
Setting thermostat temperatures and clocks
Replacing batteries in system devices
Not available for heating systems with inputs in excess of 300,000 BTUs
Not available for water heating systems with tanks in excess of 50 gallons
Maintaining adequate water level
Flushing LWCO
Venting
For more details about our natural gas service plans, please download our brochure >