Keep your cool and manage your annual energy costs with SmartPay.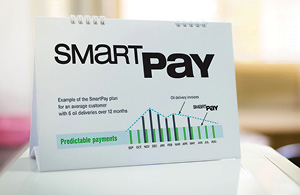 SmartPay is the smartest way to pay your heating oil bill!
Why pay large amounts for heating oil in the winter, when you could be paying monthly installments just like your mortgage, car payments, or cable bill? With our SmartPay plan, you can do just that!
How it works…
After a quick analysis of your annual energy costs, we determine a monthly payment for your heating bills.*
You pay the same amount each month for heating oil.
If you have an overpayment at the end of the year, we credit your account. If you have an underpayment, we bill you for the difference.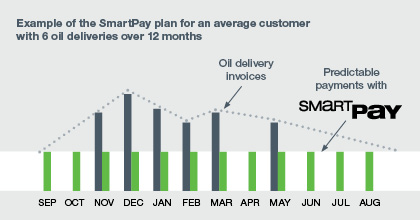 Sign up for SmartPay today and see the benefits:
It's FREE – there are no enrollment or sign-up fees, and you can enroll at any time.
Save time and money with monthly payments that are automatically deducted from your checking account.
Don't worry about lost or misplaced bills, or late fees and due dates anymore!
You know exactly how much you're paying each month, so it's easy to budget.
*Settlement of accounts occurs annually and payments may be adjusted (up or down) based on your balance.